Long Island's most electrifying fall event
Walk the immersive pumpkin trail on the grounds of a 19th-century village
See more than 7,000 hand-carved jack o'lanterns, all carved by our team of artisans
Find your favorite legendary local icon in our Hall of Fame, gaze in wonder at the Pumpkin Planetarium, see larger-than-life sea creatures and watch your head as an animated Headless Horseman rides into the night
Enjoy an all-original soundtrack and synchronized lighting, which complement the experience
Browse the expanded shop with exclusive souvenirs and local finds
Preview Experience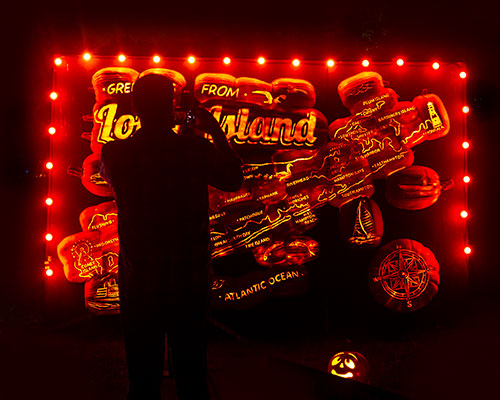 2022 Blaze: Long Island Dates and Times.
Get FLEX Tickets and Visit ANYTIME!
September 30
7 to 10pm

October 1
7 to 10pm

October 2
7 to 9 pm

October 5-6
7 to 9 pm


October 7-9
7 to 10pm

October 10
7 to 9pm

October 12-13
6:30 to 9pm

October 14-15
6:30 to 10:30pm


October 16
6:30 to 9pm

October 19-20
6:30 to 9pm

October 21-22
6:30 to 10:30pm

October 23
6:30 to 9pm


October 26-27
6 to 9pm

October 28-29
6 to 10:30pm

October 30-31
6 to 9pm

November 4-5
6 to 9pm


Advance Tickets Required
Admission is by timed ticket or FLEX anytime ticket sold ONLY in advance. NO tickets available on site.
Local Artisans
See the incredible work of Long Island carvers!
Shop for Souvenirs
Our expanded Blaze shop features exclusive finds, seasonal gifts, and more.
Flex Tickets - Go Anytime!
Visit Blaze ANY NIGHT, even when it's sold out, plus receive exclusive on-site FREE goodies. No reservations needed!
LIMITED CAPACITY
This event sells out – buy tickets early to secure popular dates and for best pricing.
FAMILY FRIENDLY FUN
Blaze is an all-ages event, enchanting for everyone from the littlest goblins to grown-up ghouls.
Buy with Confidence
For a small fee, exchange any ticket up to 48 hours before the event. Learn more
Visit Duration
Blaze is a self-paced walk-through experience. Visitors usually spend about 45 minutes on the pumpkin trail.
Getting to Blaze: Long Island
Old Bethpage Village Restoration
1303 Round Swamp Rd
Old Bethpage, NY 11804
Map + Directions
Parking is FREE, Safe, & Secure
Available starting 30 minutes before your ticketed entry time, NO earlier. If you arrive early you will be turned away. Handicapped parking is available for cars displaying a valid handicapped placard or plate.
Along the Pumpkin Trail
The Sights of Blaze: Long Island
Blaze: Long Island
Old Bethpage Village Restoration
This 209-acre living museum village in Nassau County is the home of Long Island's top Halloween event! Visitors stroll the pumpkin trail, past 19th-century buildings, and through historic barns, to find themselves immersed in a fall wonderland with more than 7,000 hand-carved jack o'lanterns.
Proceeds from your ticket purchase support the education and preservation efforts of Old Bethpage Village Restoration and Historic Hudson Valley.